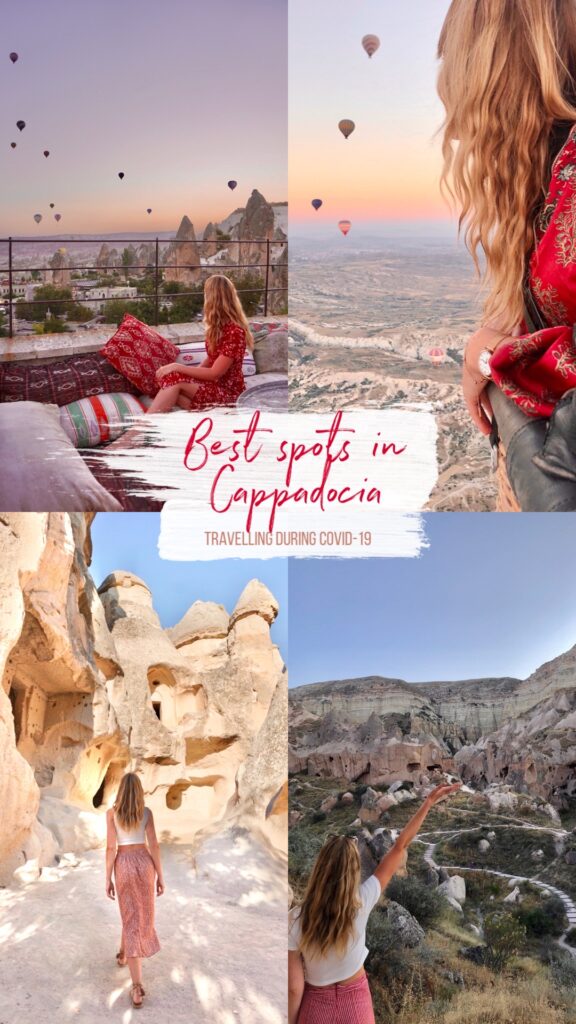 Cappadocia or Kapadokya, as they call it locally, has been on my list of 'must-visits' for an extremely long time. It's fast become one of the most instagrammable locations in the world, and rightly so! 
From the stunning, otherworldly views and fairy chimneys to the hot air balloons gracing the magical landscape, Cappadocia pretty much has everything you could ask for in a travel location! 
I was VERY reluctant to go anywhere during a global pandemic, but I had my flights booked, nothing was cancelled and the cases were relatively low for such a big country. We weighed up the pros and cons, and went for it!
 I must add, Turkey are very strict at the moment with regards to safety measures – you have to pretty much wear a mask everywhere, even outside and if you fail to do so, you get an on-the-spot fine. This did make things hard, mainly because it's such photogenic location and who wants a mask in their photos!? I did -sneakily- take my mask off for all these shots (don't tell haha!).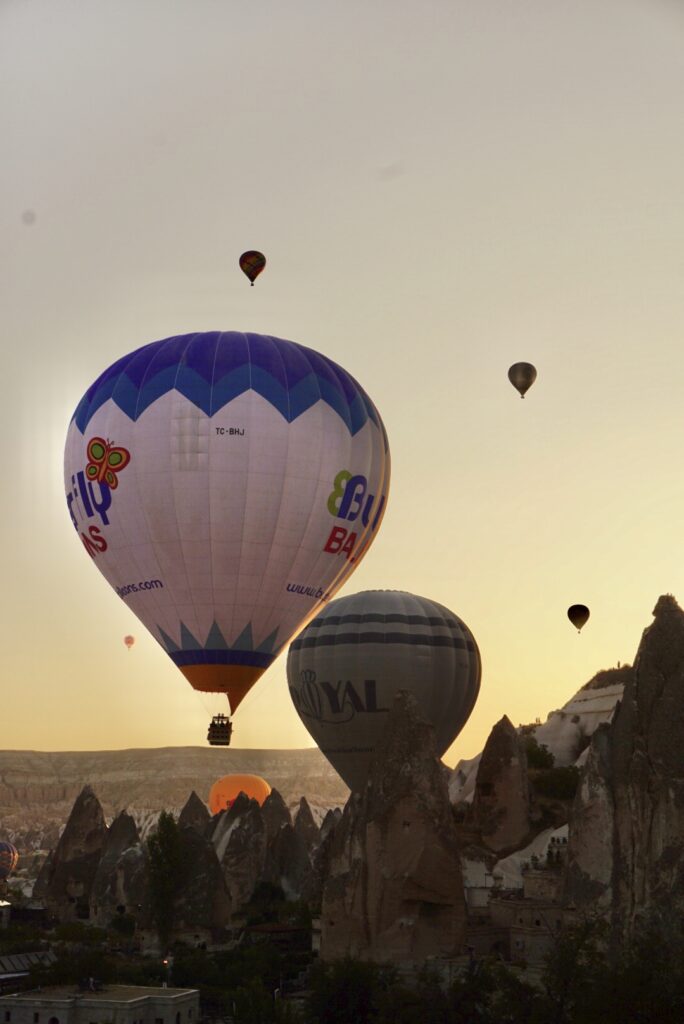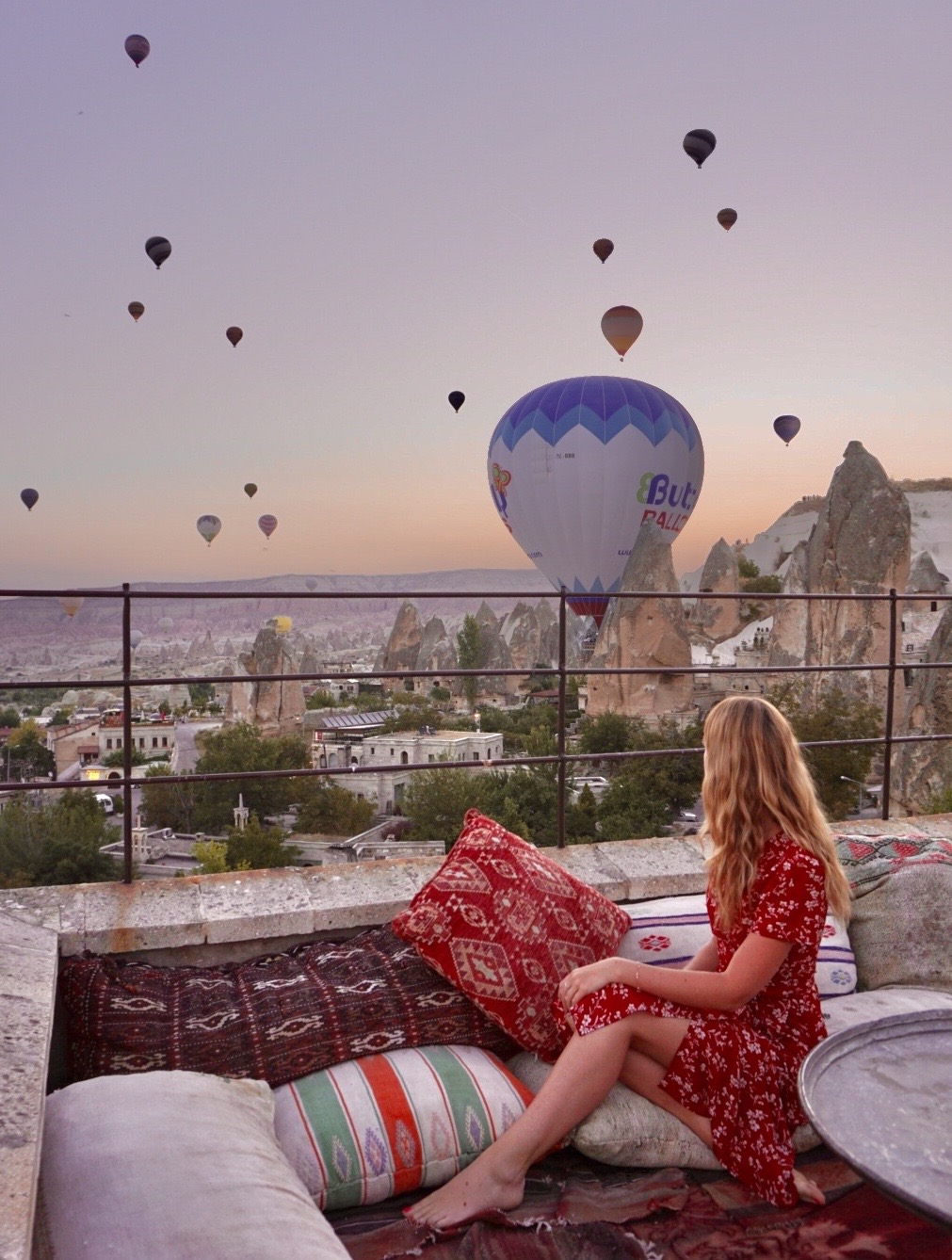 Turkey has been a place I regularly visit, but I generally go to the southern coast and for some reason haven't ventured too far into mainland-Turkey! It's safe to say this is the first of many expeditions across Turkey, but as a first I think it's definitely one to beat.
We decided to drive from Marmaris to Cappadocia instead of flying, due to the pandemic, not wanting to expose ourselves to the virus on yet another flight and it took us just over 11 hours. It was a pretty straightforward route, allowing us to sightsee along the way (I'll mention a few must-see stopover suggestions at the end of the post if you're planning on doing the same thing!)
As soon as you arrive in Cappadocia, you feel as though you've landed on another planet or even in a fairytale. Of course I'd seen a lot of photos on Instagram but I wasn't prepared for how incredible it actually was! 
Our Cave Hotel: Cappadocia Cave Suites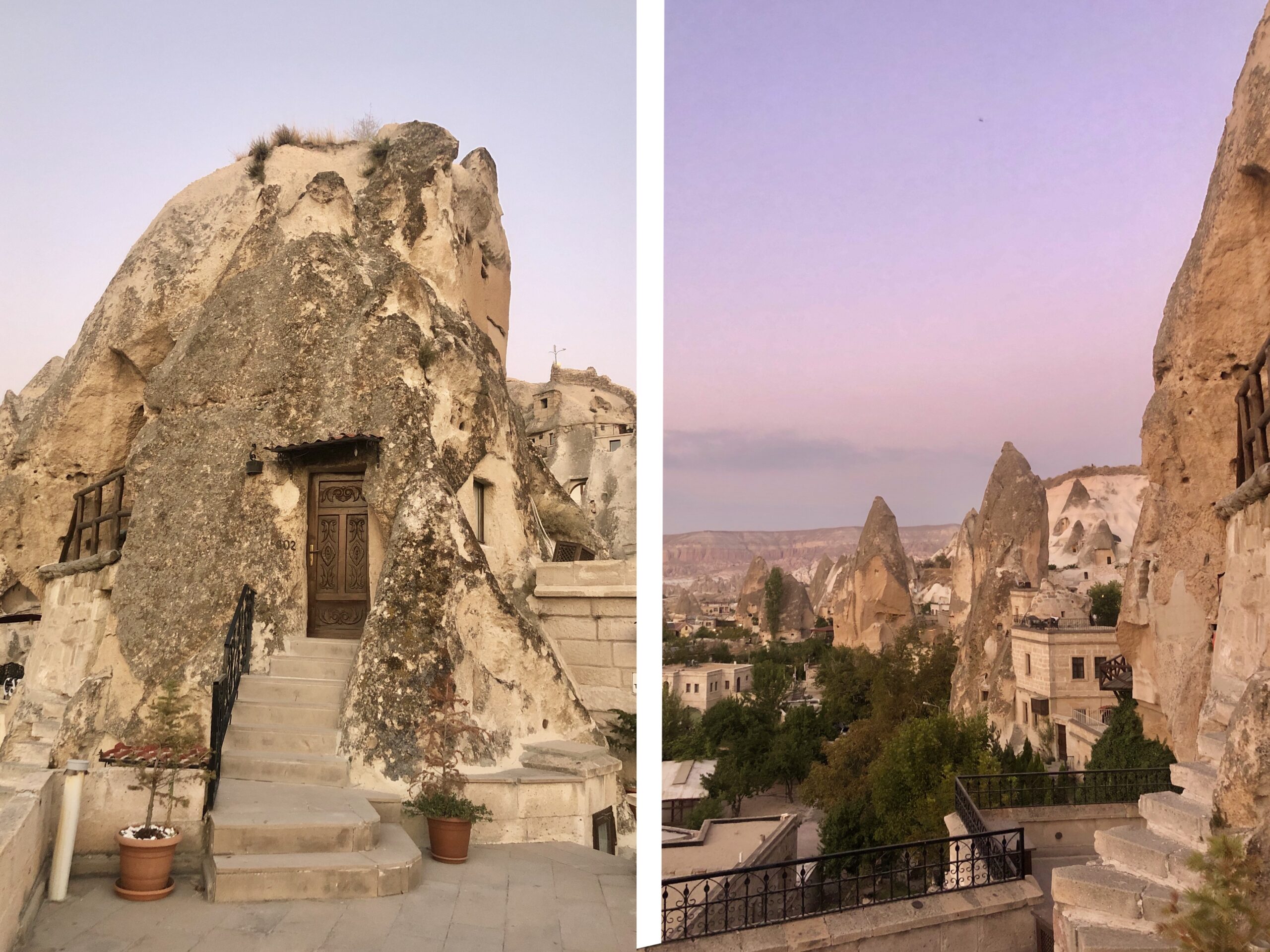 We arrived at our hotel in Goreme, Cappadocia Cave Suites, at sunset meaning the landscape was glowing with a dusty rose/pink hue, making it genuinely look like Mars; an incredible introduction to our 5 day stay! The caves are carved out of rock formations made by forces of nature chipping away at them for thousands of years and the best part, you can stay in them! You can't really go wrong with the hotels in Cappadocia; Nearly all of them combine the original dwellings of the Hittites, Romans and Byzantines with the luxurious comforts of the 21st Century!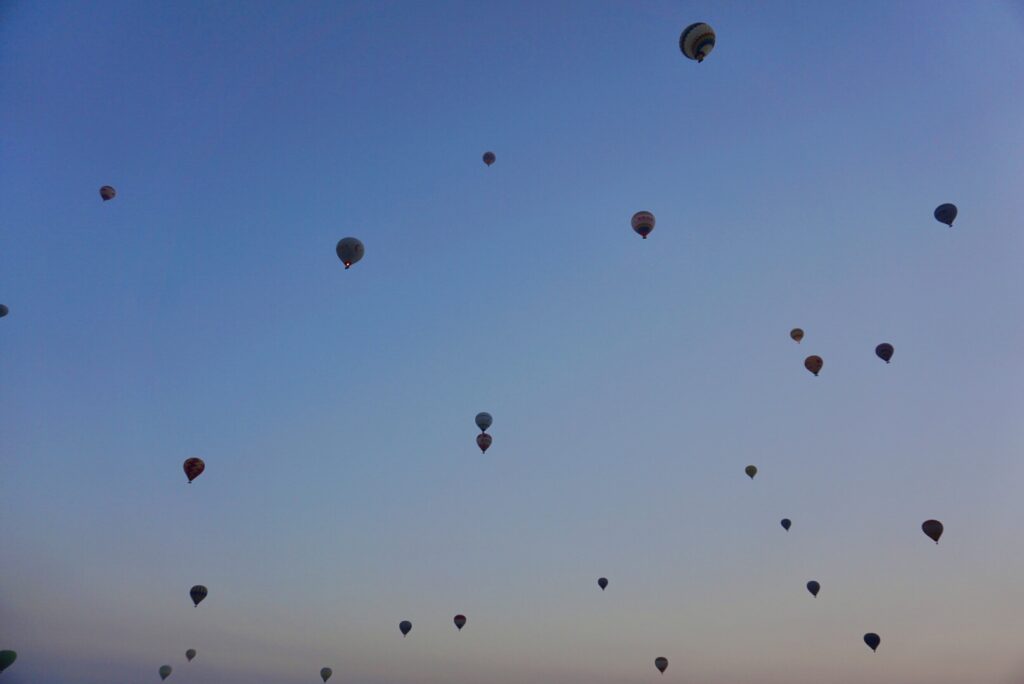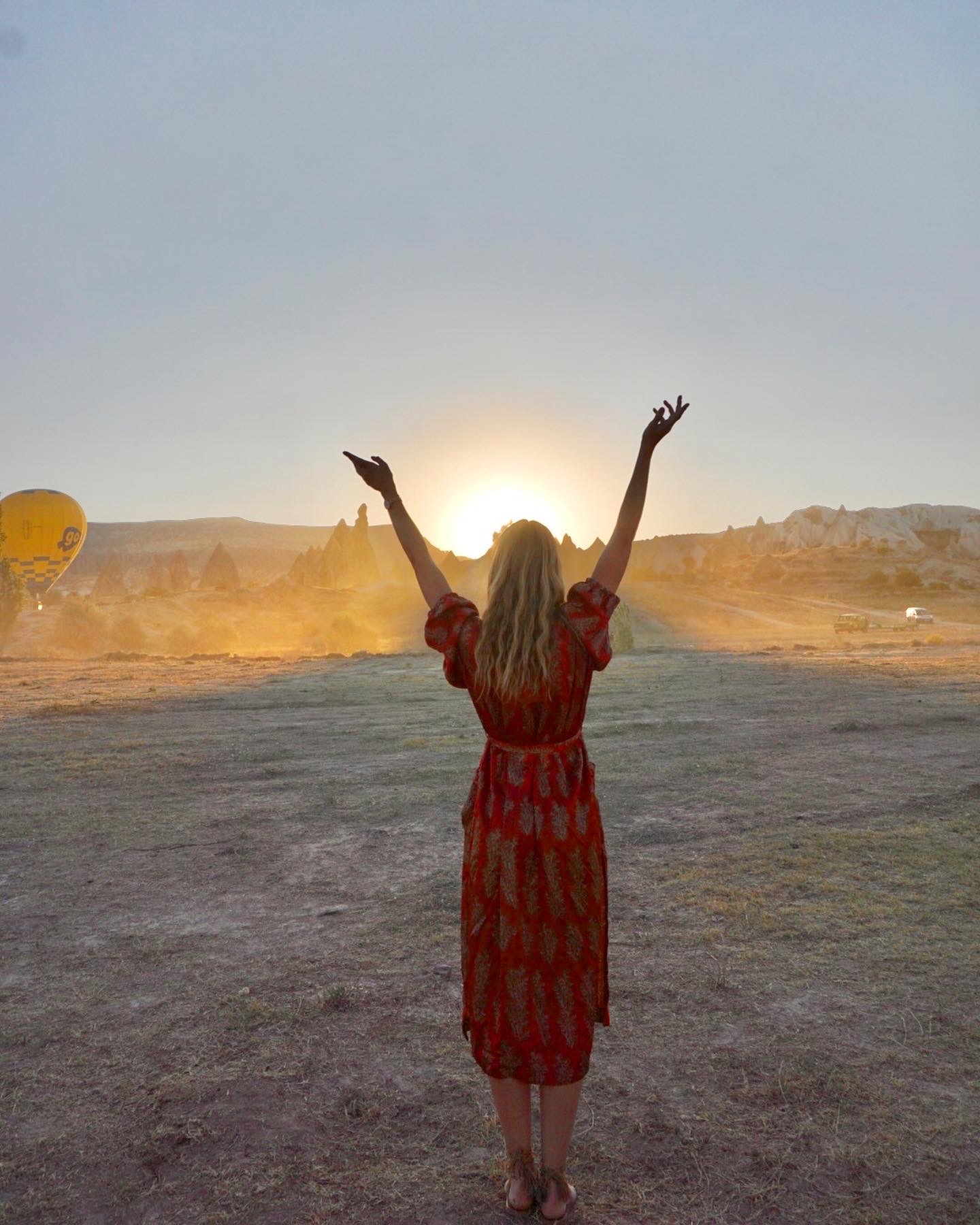 Balloon Take-off/Launch Site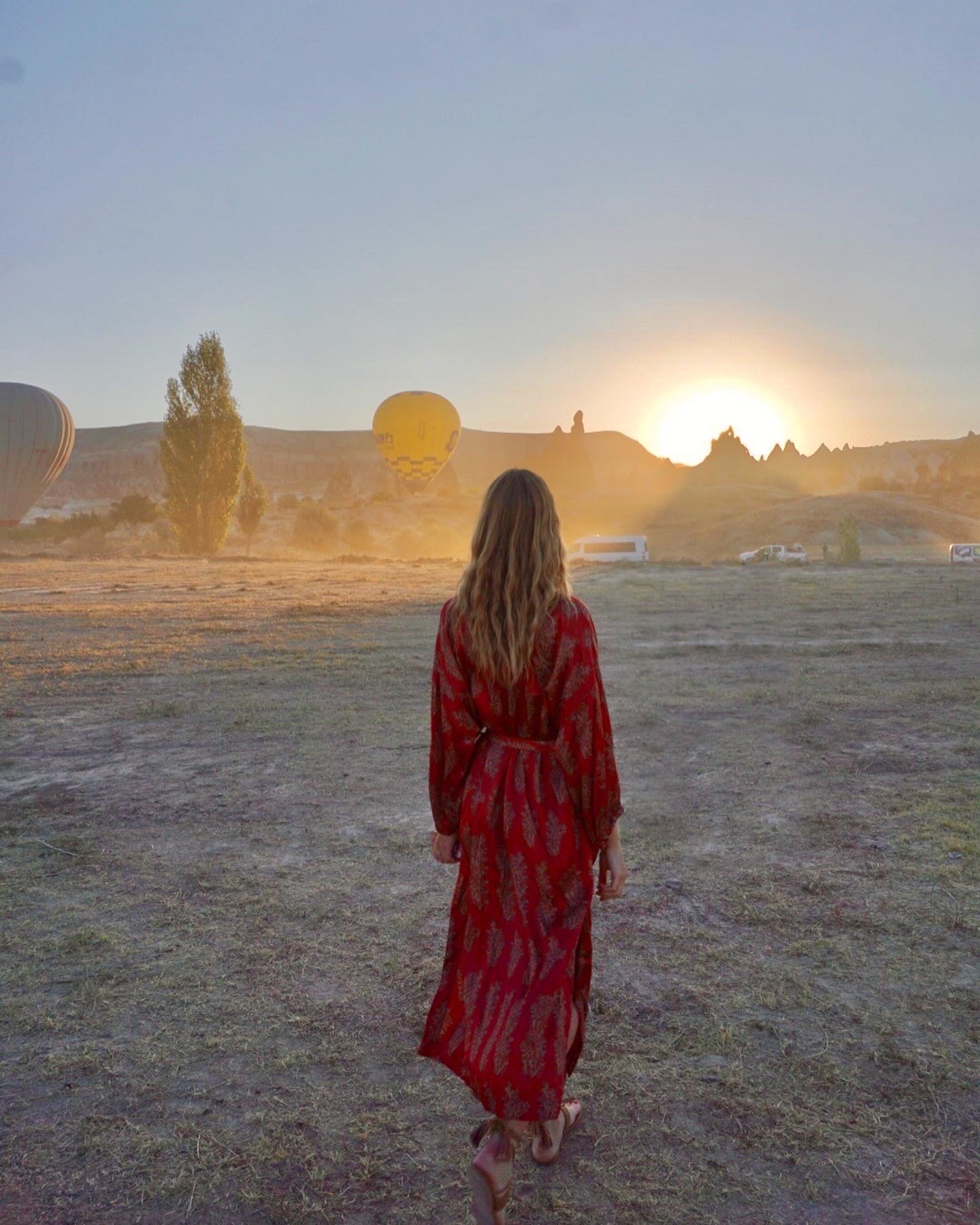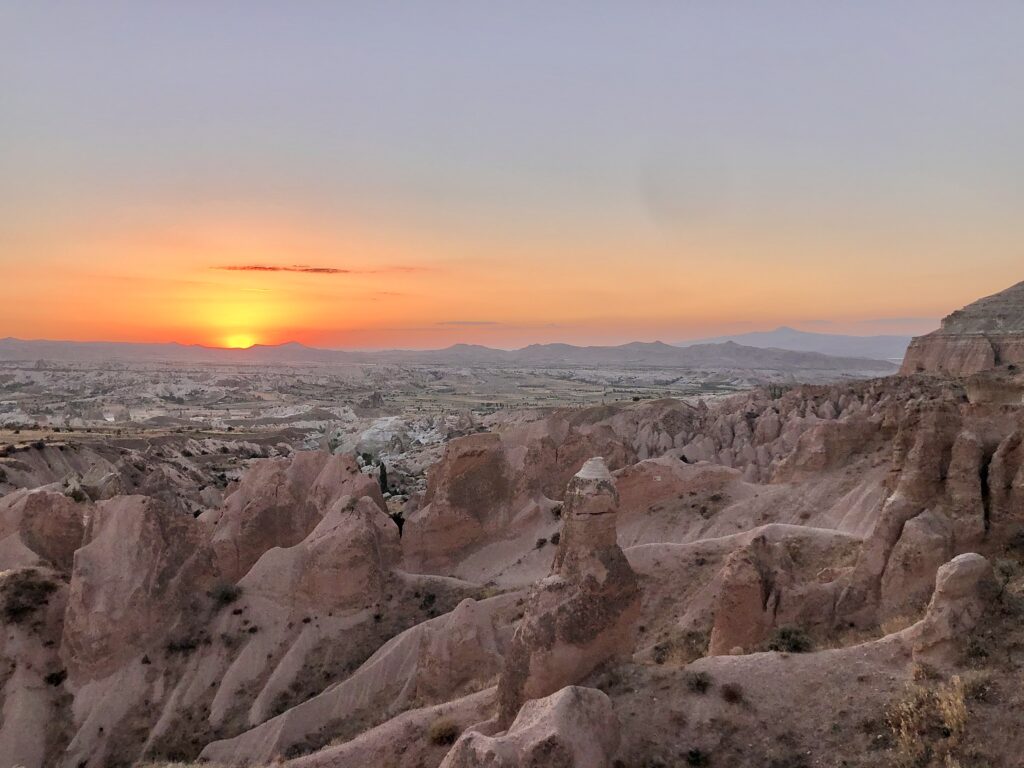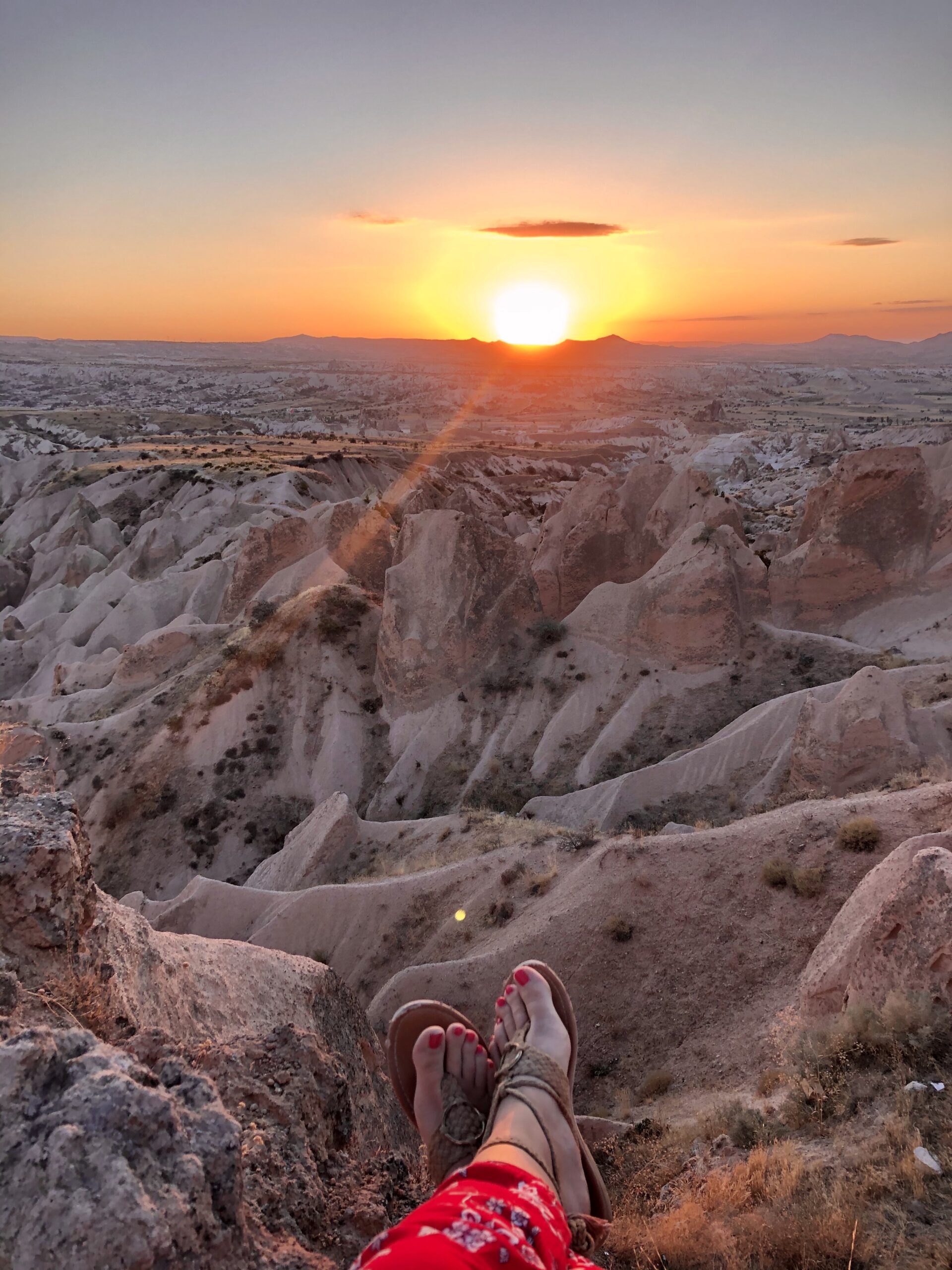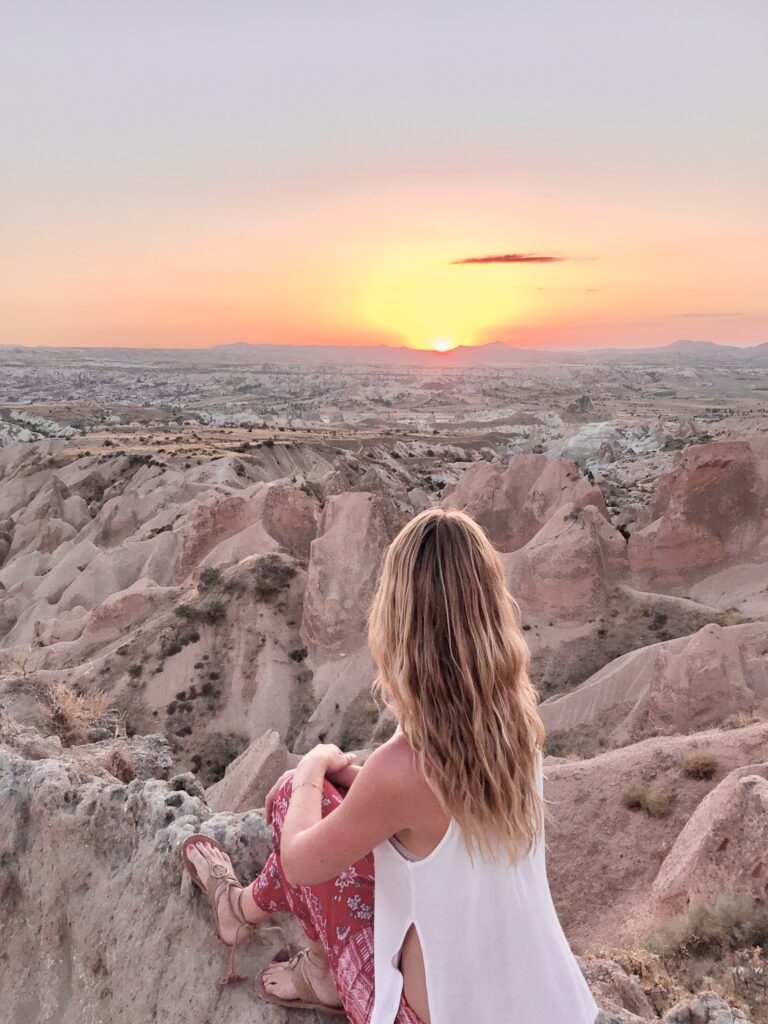 When visiting Cappadocia make sure to have at least 3/4 days there, this'll give you a chance to see the hot air balloons rise at sunrise as they sometimes aren't able to fly due to weather conditions. We amazingly had 5 consecutive days of perfect weather, meaning we got to see them rise every morning, allowing for lots of photographic moments! 
Usually around 300 balloons take off almost every morning but because we were there during a global pandemic, there were considerably less balloons but it still made for an incredibly magical view! 
In September the balloons usually take off around 5:45am so make sure you get to a good spot and take some layers! It was surprisingly cool in the morning. 
Most hotels offer beautiful sunrise viewing terraces or you can take a hike (or go by taxi, but I do recommend doing at least one hike!) to any of the near-by valleys such as, Sunset point, Lover's hill, Panoramic Viewpoint, Red Valley or even the Balloon take-off site to experience them taking off up close!
Hot air balloon experience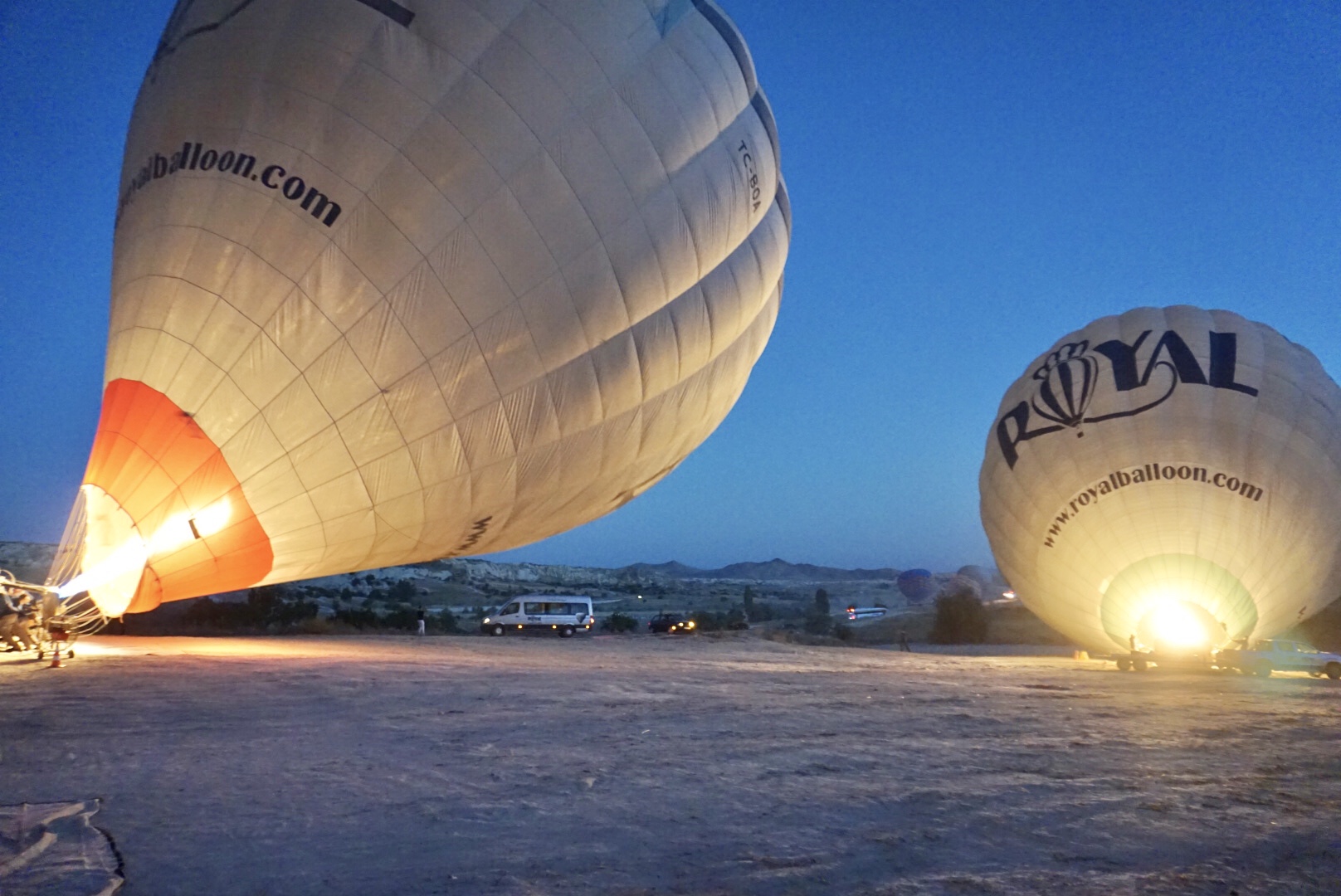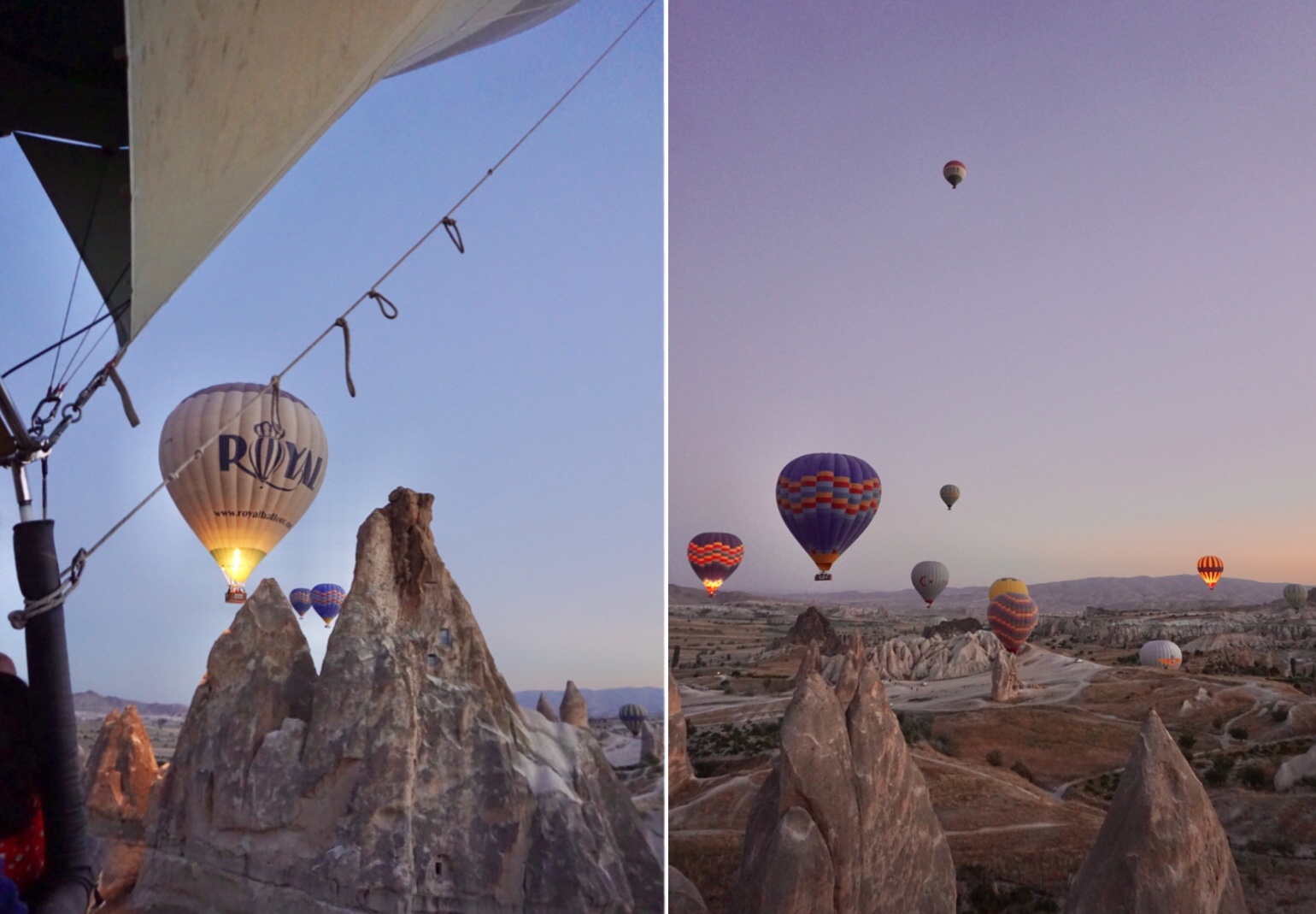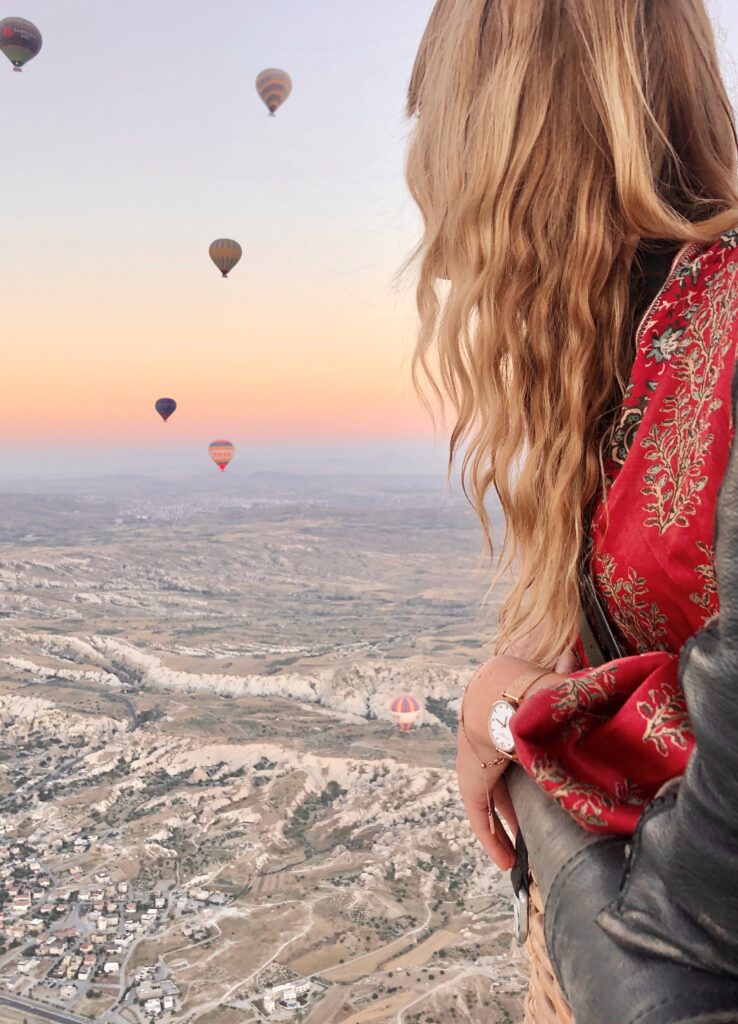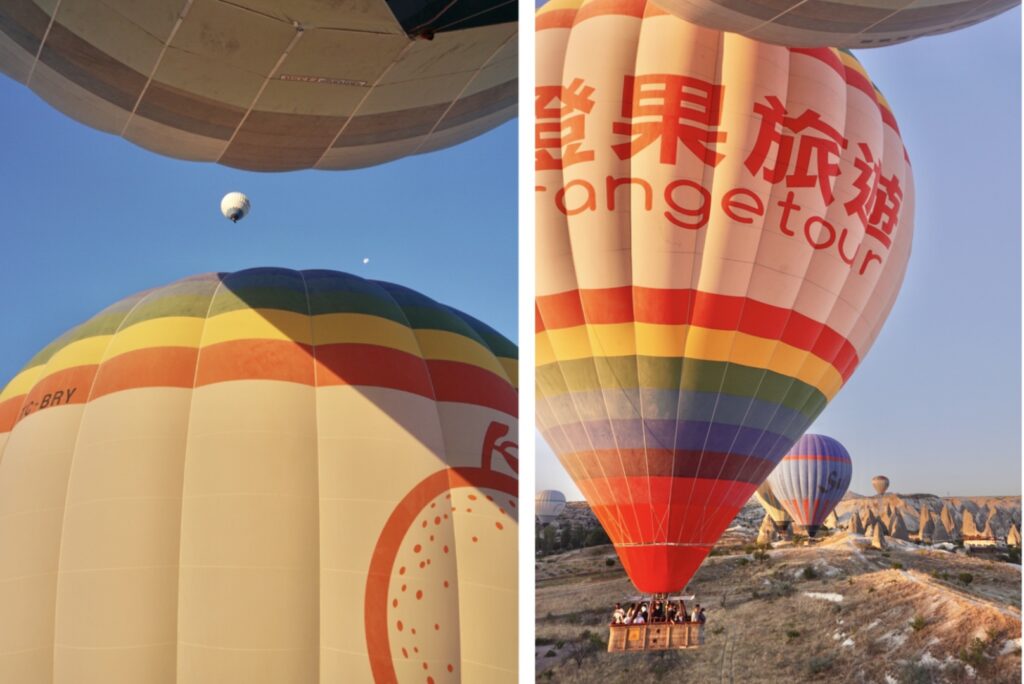 You can't go to Cappadocia and not go in a hot air ballon. The weird but wonderful landscape is best viewed floating high up, with a perfect aerial view and the entire experience has to be one of the best I've done! 
Our experience started with a brutally early wake up call at 4:30 am to have the balloon company collect us from our cave and take us for breakfast at 5am. From there we drove to the take-off site. Scattered everywhere were HUGE deflated balloons, they almost looked as though they were sleeping, ready for the pilots to wake them by filling them with hot air and gas. We were soon in our basket and taking off!  Our pilot skilfully took us through the valleys, flying very close to the rocks, then up to a max of 800 meters, just as the sun rose! 
Its difficult to put an incredible experience as this one into words, but it felt as though time stood still for our hour ballon ride. Most ballon rides last about an hour, with some offering a slightly longer rides of 75-90 minutes. I cannot recommend a hot air ballon ride enough, however long you choose! 
Must see locations & instagrammable spots
Cappadocia is rich with history and diverse locations that offer perfect sites for views and photos. There are cave churches that were carved hundreds of years ago, underground cities preserved in the rock that once saw bustling civilisation live as we would any other city, even a castle that stands at the highest point of Cappadocia – all of these are a must-see! 
I've read that generally these locations are all quite busy with hundreds and thousands of tourists coming all year round for that perfect insta-worthy photo but because we were there in 2020, the year Covid-19 changed everyone's plans, it was empty! The pandemic turned into being a somewhat blessing in terms of site-seeing!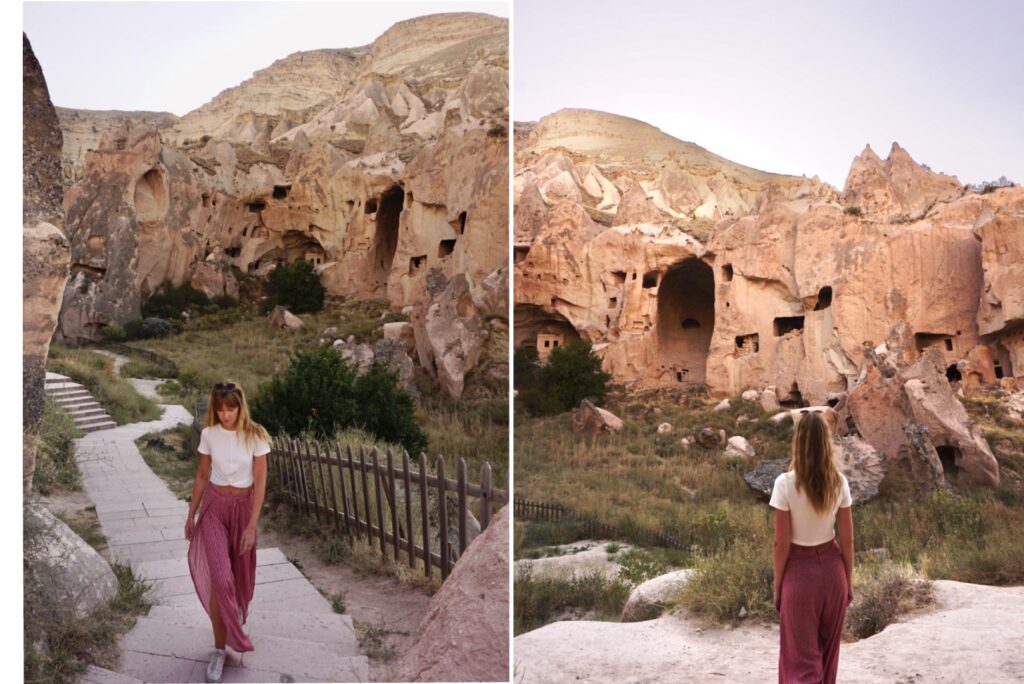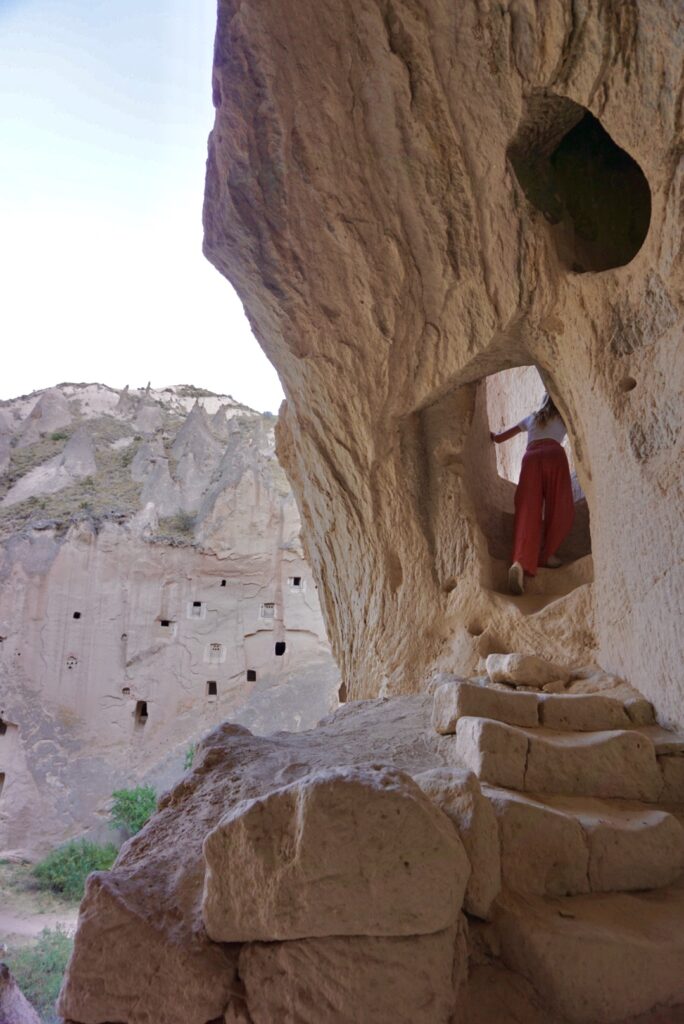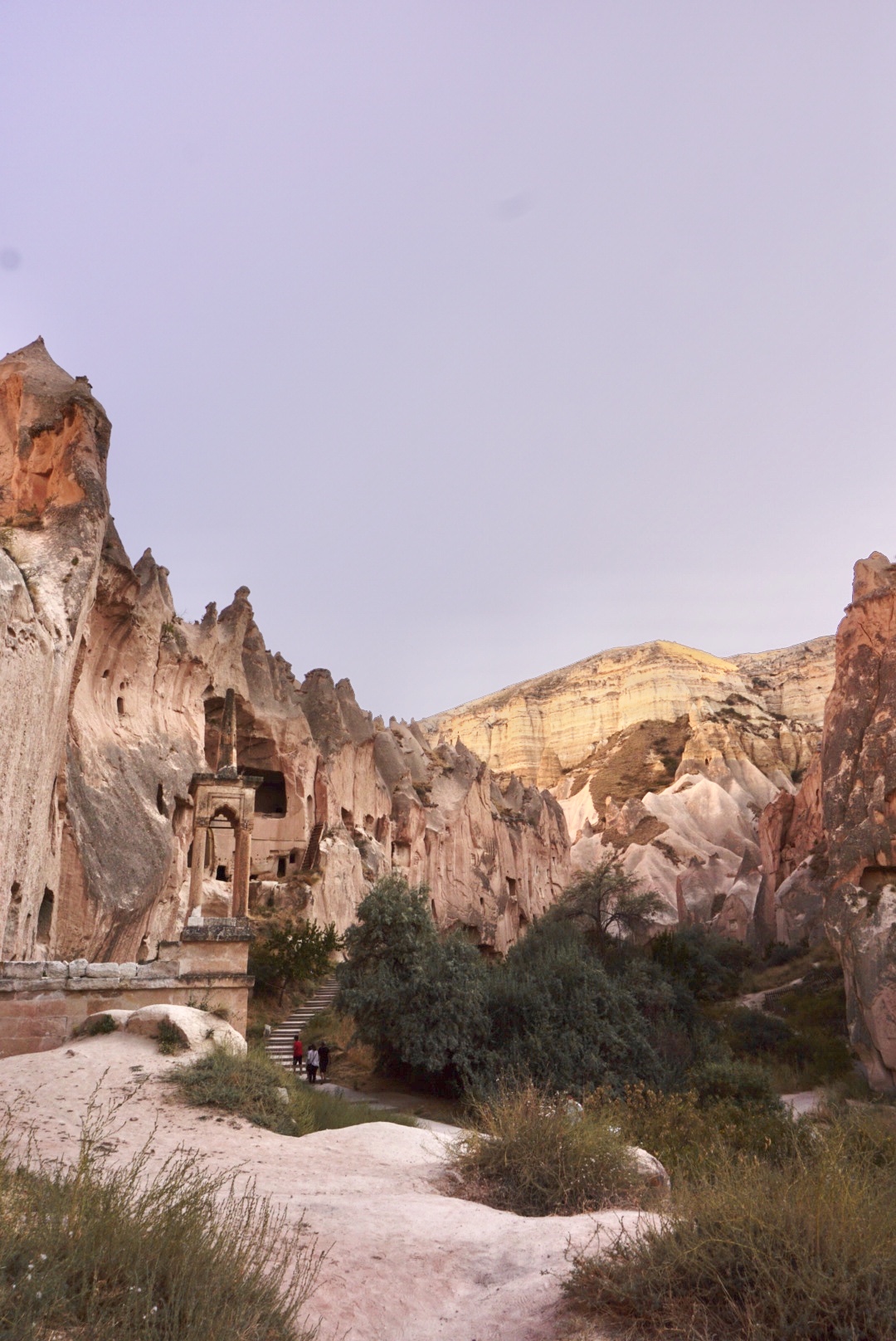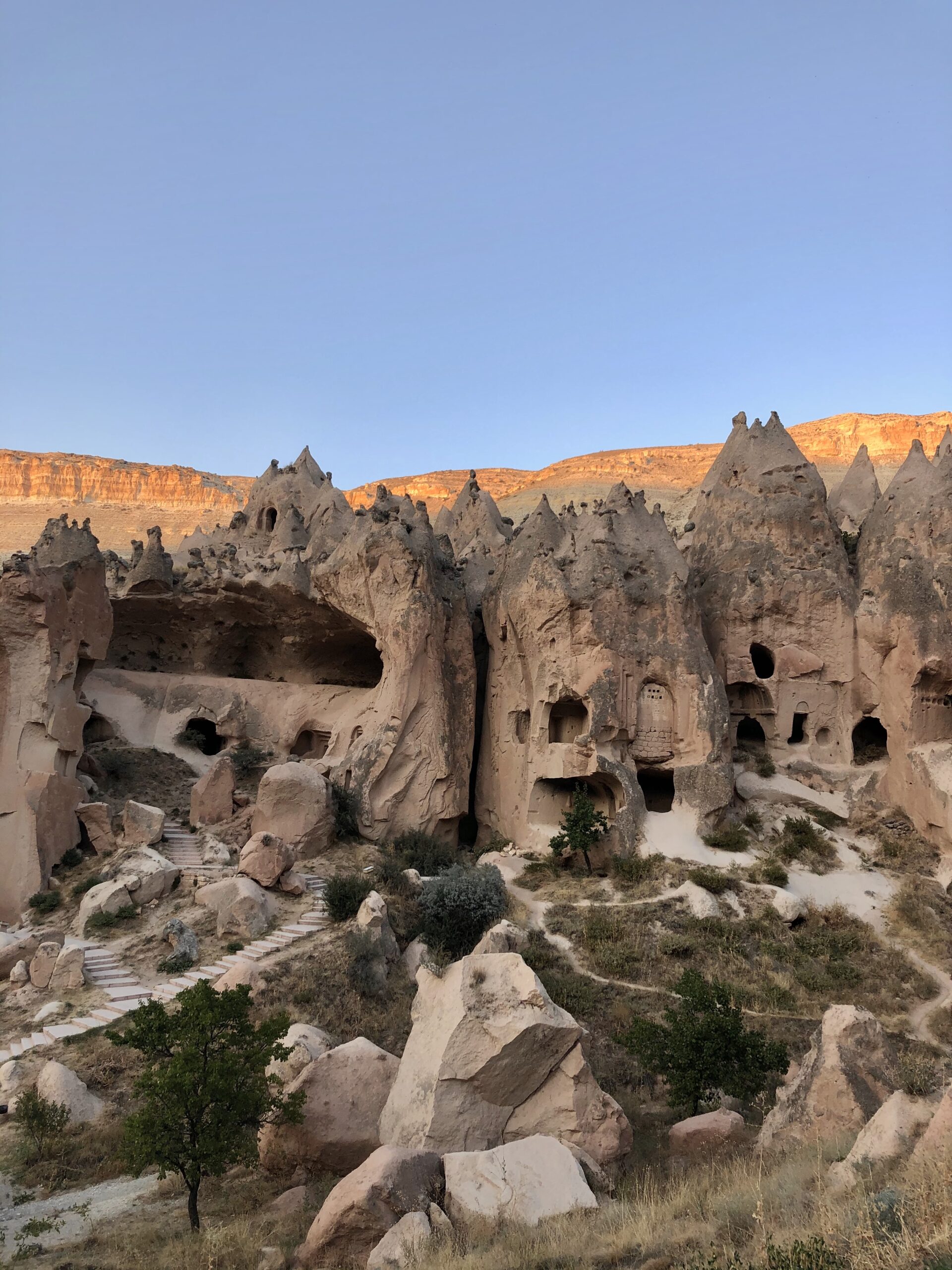 Being one of Turkey's UNESCO world heritage sites, the Zelve open air museum is a surreal wonderland of cone-topped caves, monasteries and churches. We visited the open air museum at around 5pm and again, it was absolutely deserted, we pretty much had the entire place to ourselves. Although it does close at around 6:30, they allow you to stay until around 7:30pm so we had a good couple of hours to explore the caves.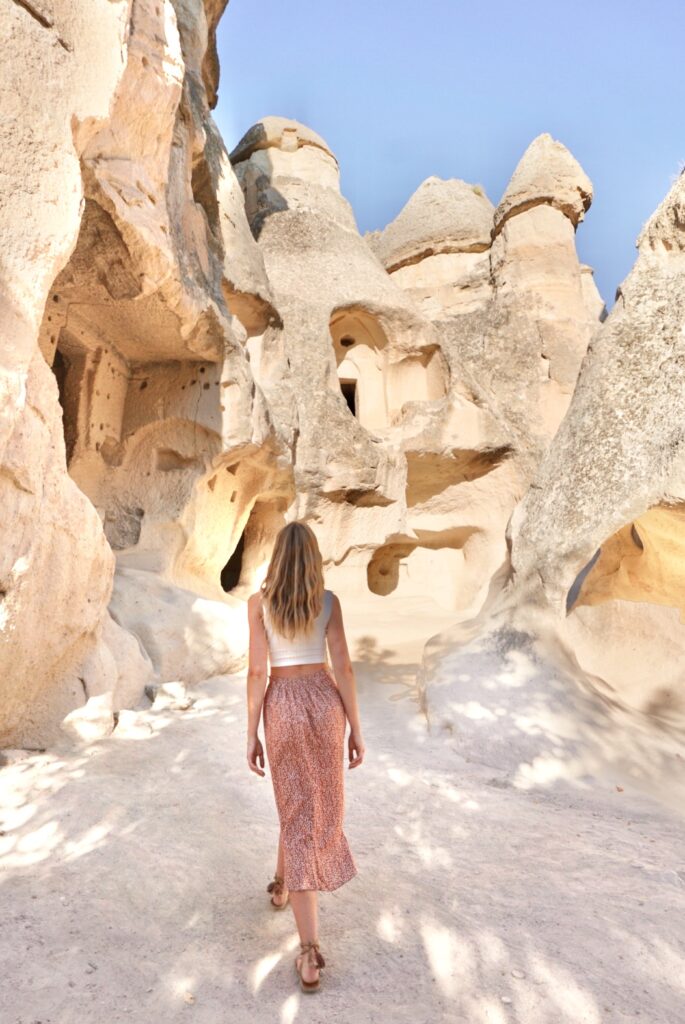 Pasabag Valley, or known as Monk's Valley, just a little way on from the open air museum, offers some of the prettiest fairy chimneys in the area. Each sandy-coloured cone-shaped dwelling, possibly dating back to the 11th and 12th century, has its own character. Yet another perfect spot for photo-taking; there were quite a few bridal photo shoots happening, what a place for a bridal shoot!
Underground cities, Kaymakli and Derinkuyu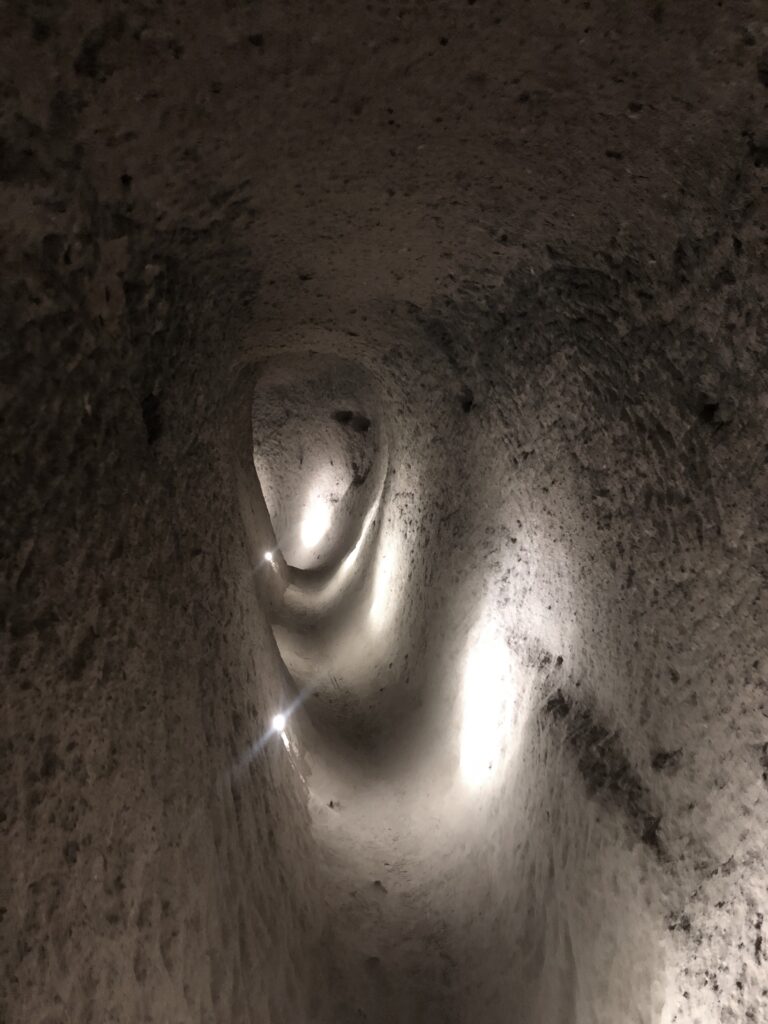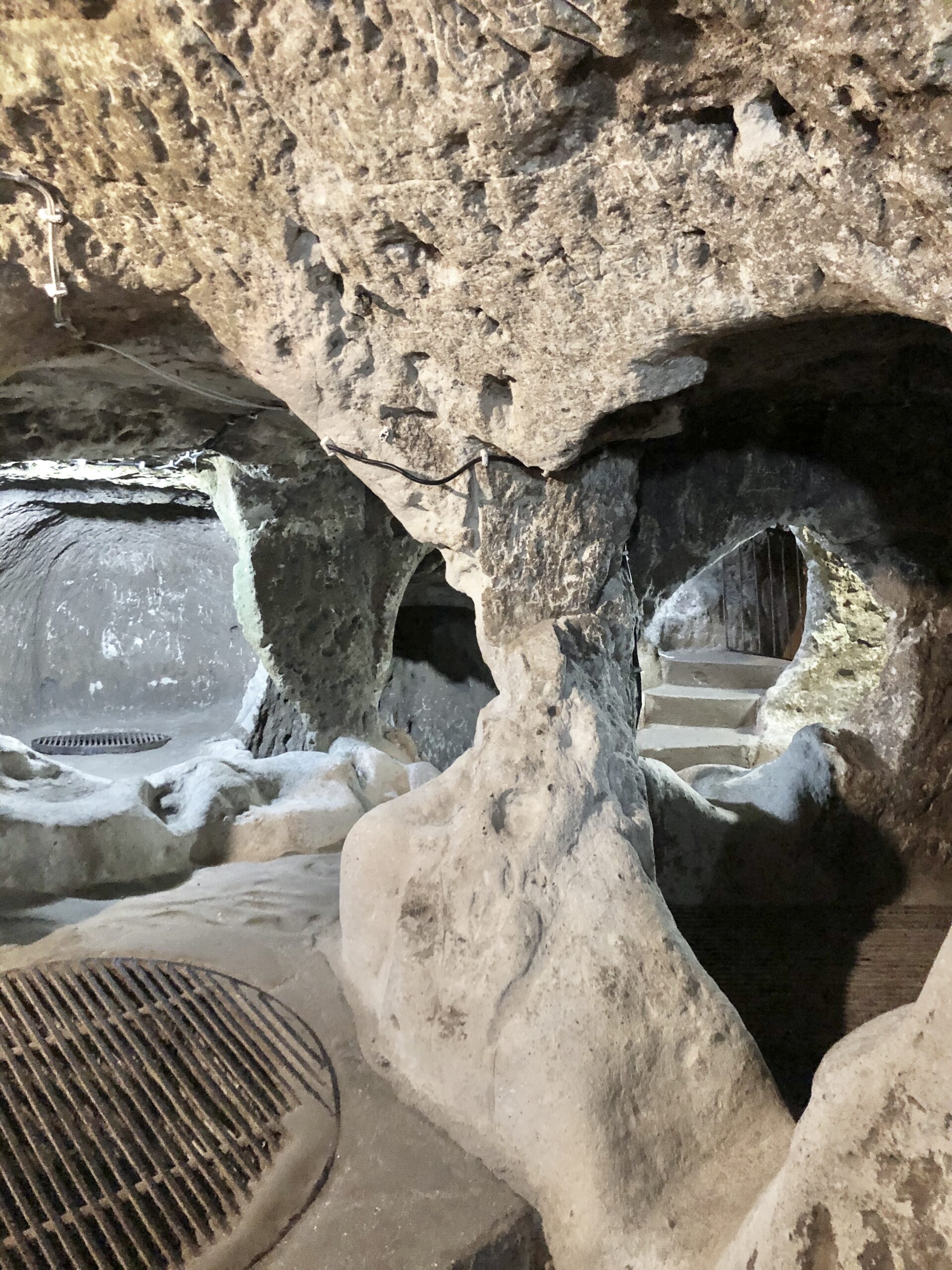 Located about a 30 minute drive out of Goreme, these two underground cities have to be some of the top highlights from my trip. As long as you don't mind tight spaces, this place is another must-see! Wandering through the labyrinth of of tunnels and small chambers was like being shrunk down to the size of an ant, crawling deep in the belly of it's colony. 
Having only been discovered relatively recently, there's not too much experts know for certain about these underground cities. It is thought that over 20,000 people lived in these, including all their livestock! Archaeologists estimate that the city of Derinkuyu has up to 18 subterranean floors, making it the deepest in the world whereas Kaymakli supposedly the largest!
Galerie Ikman and Sultan's carpets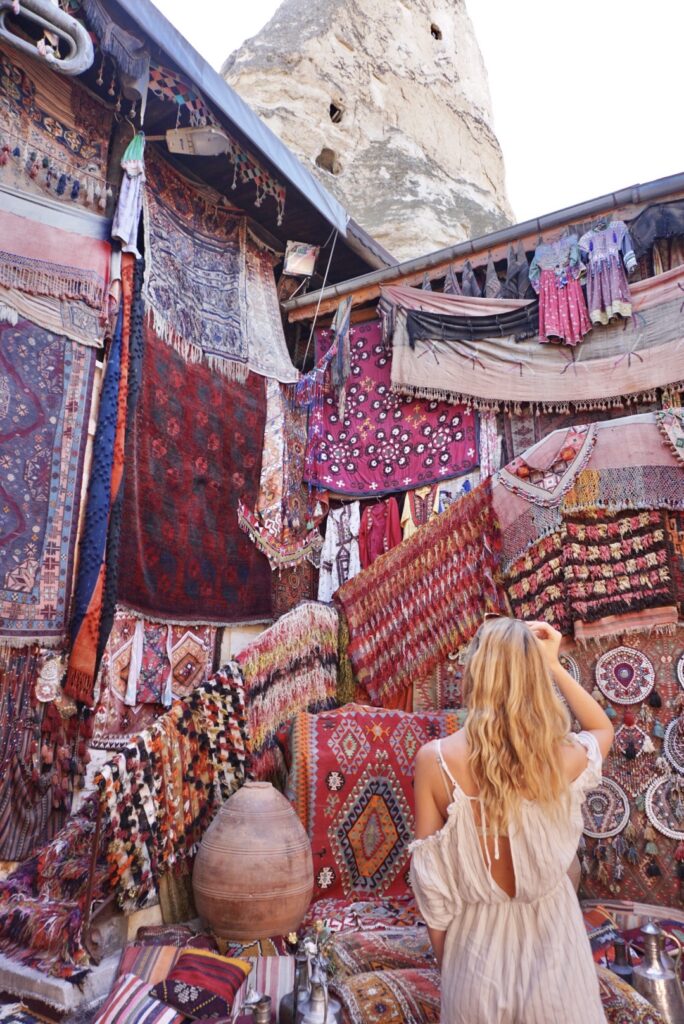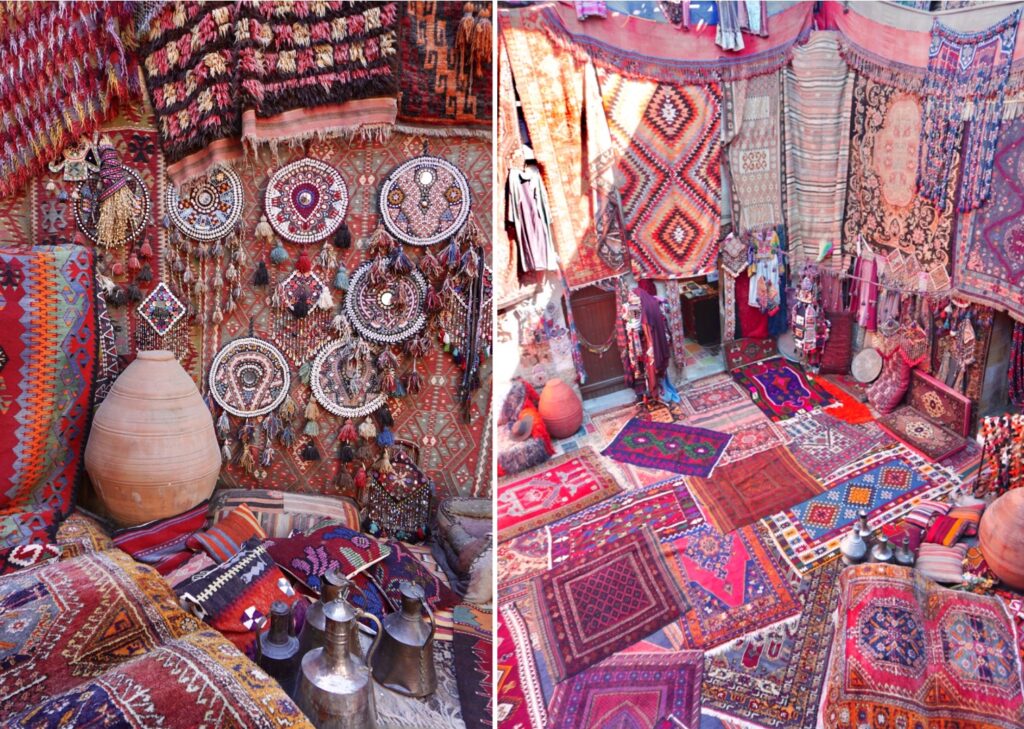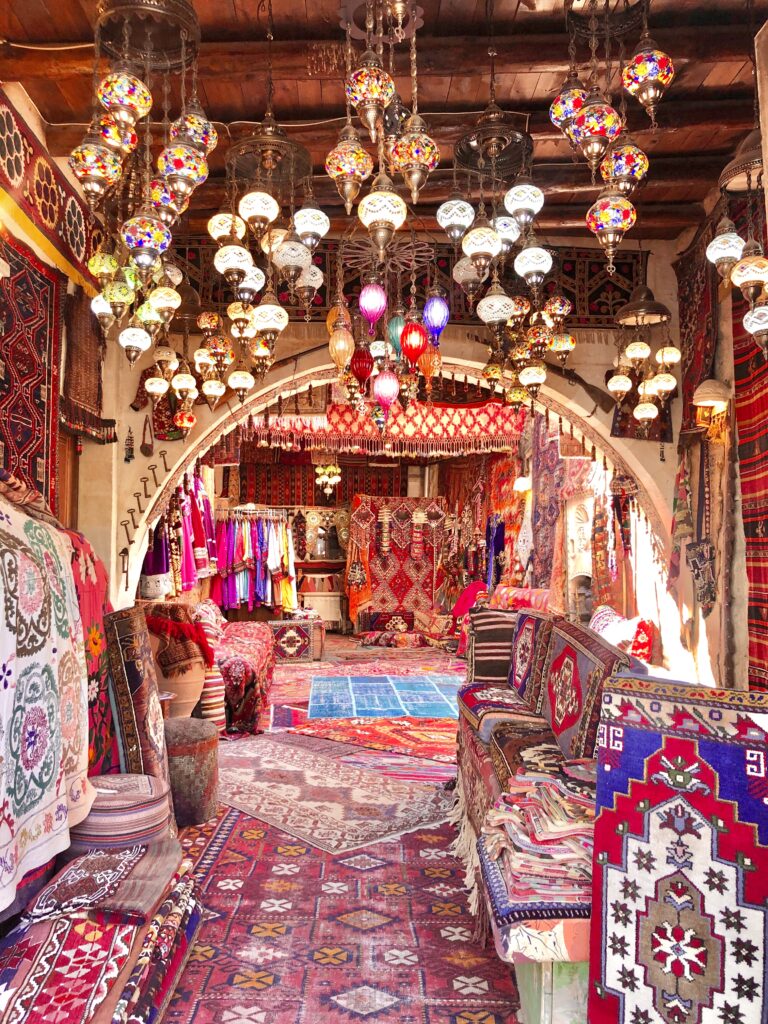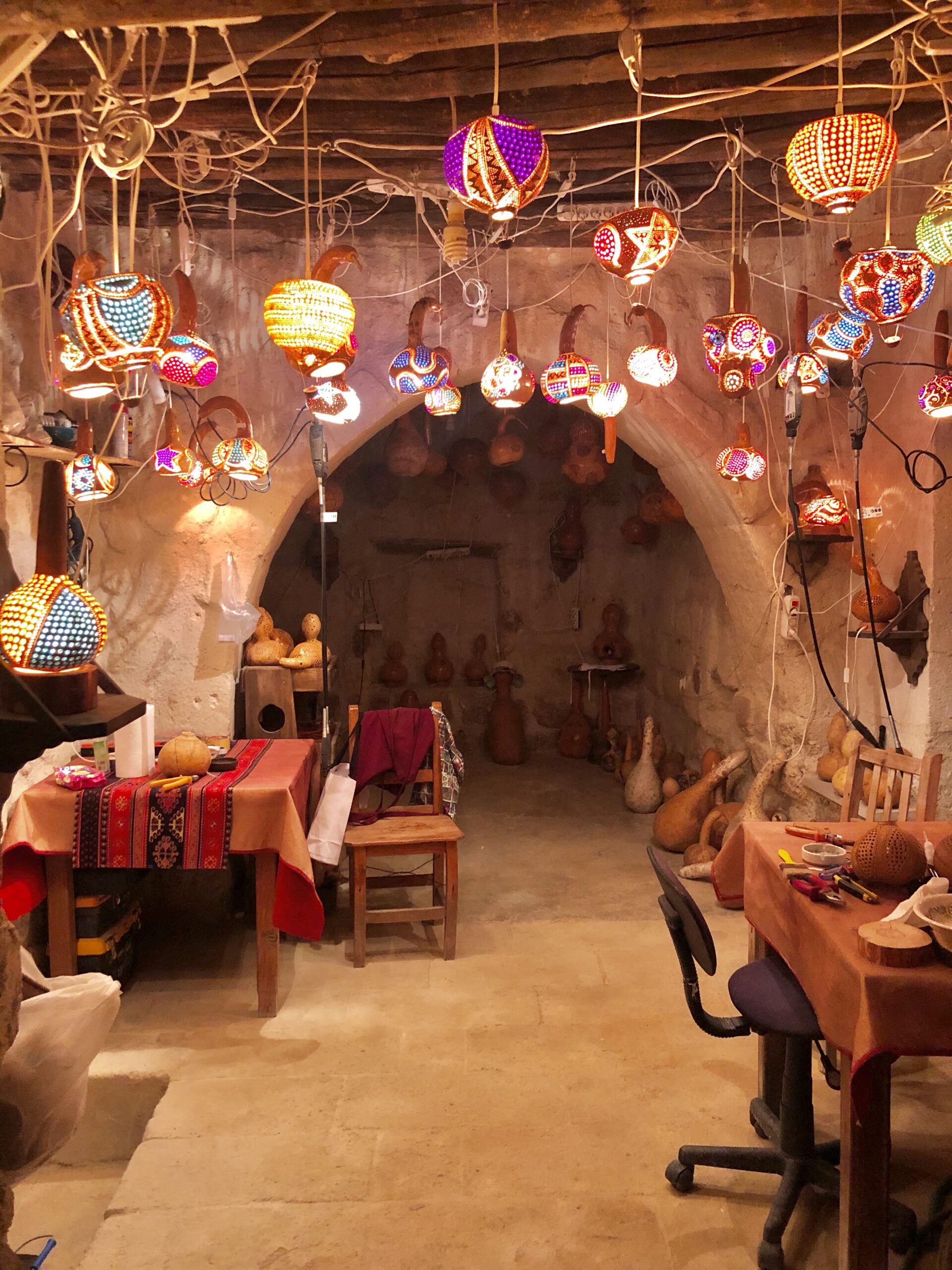 Well-known for their carpet markets, make sure you check out both Galerie Ikman and Sultan's carpets, among other picturesque shops. Walking into these is like walking into Aladdin's cave!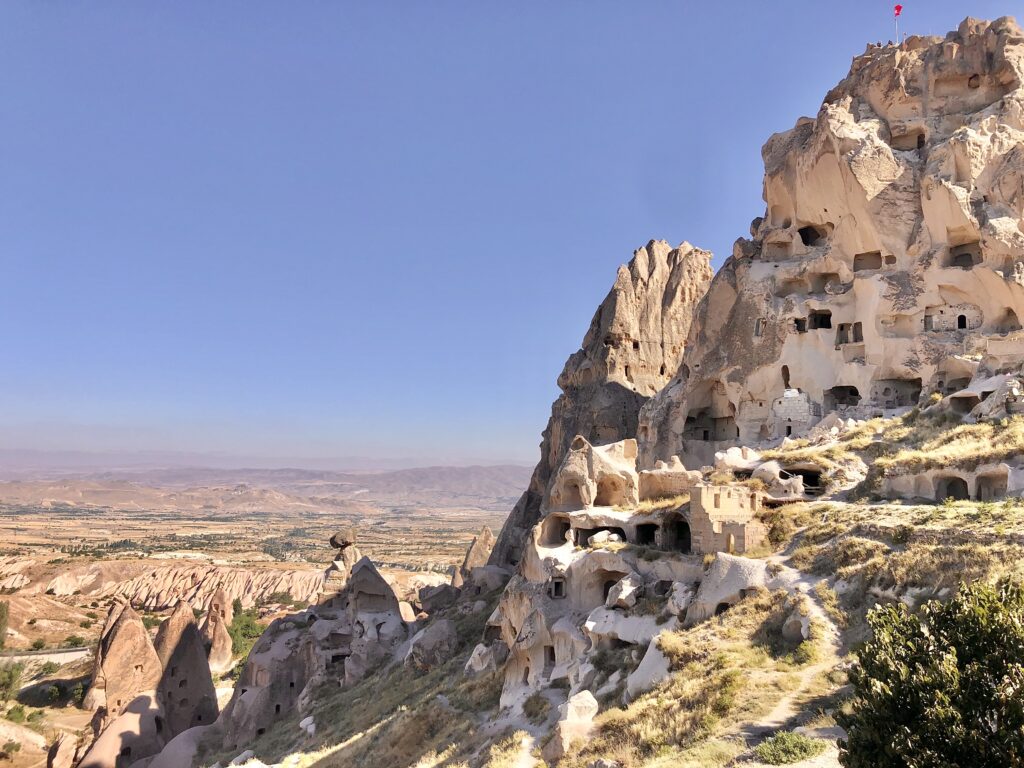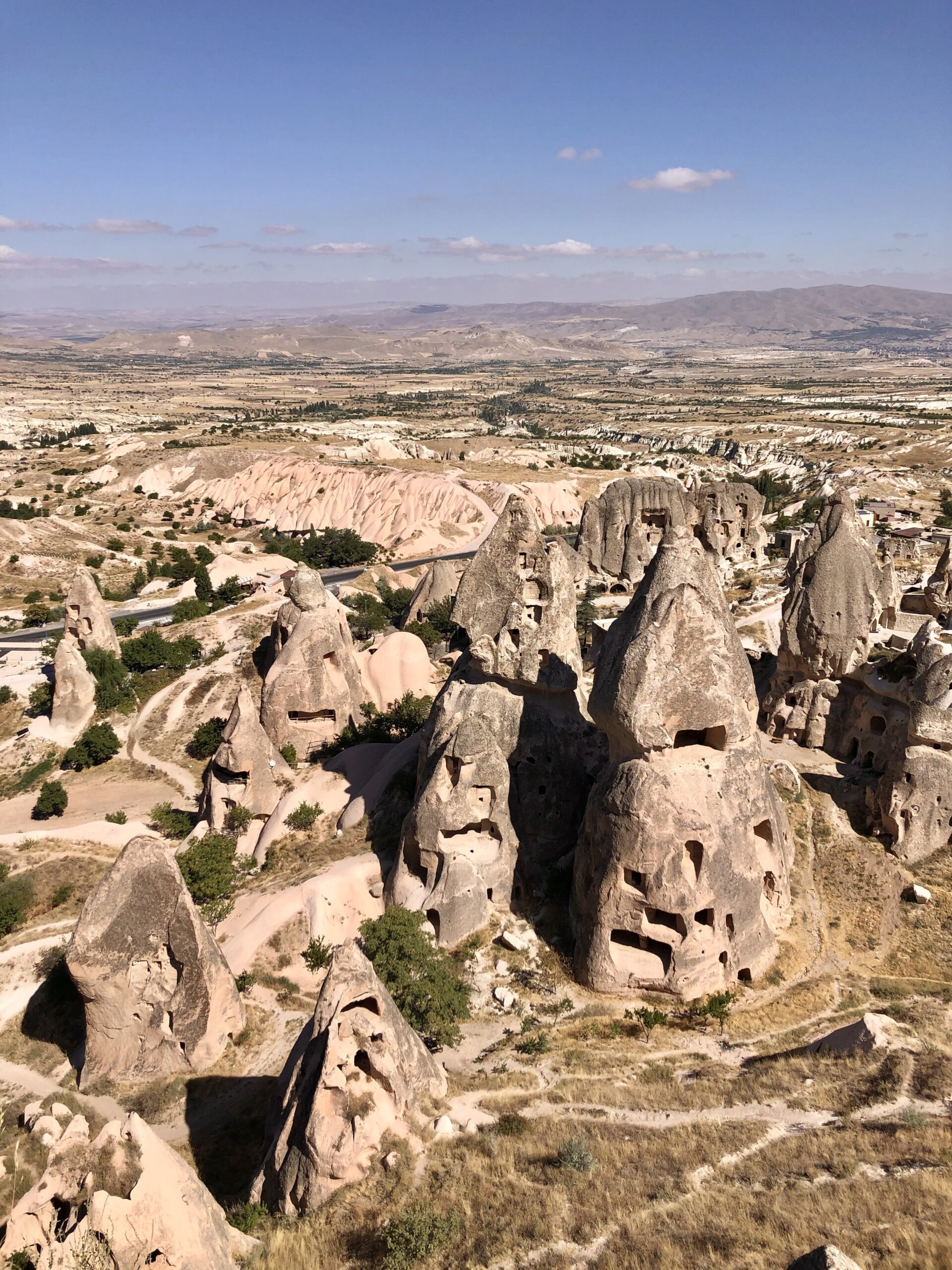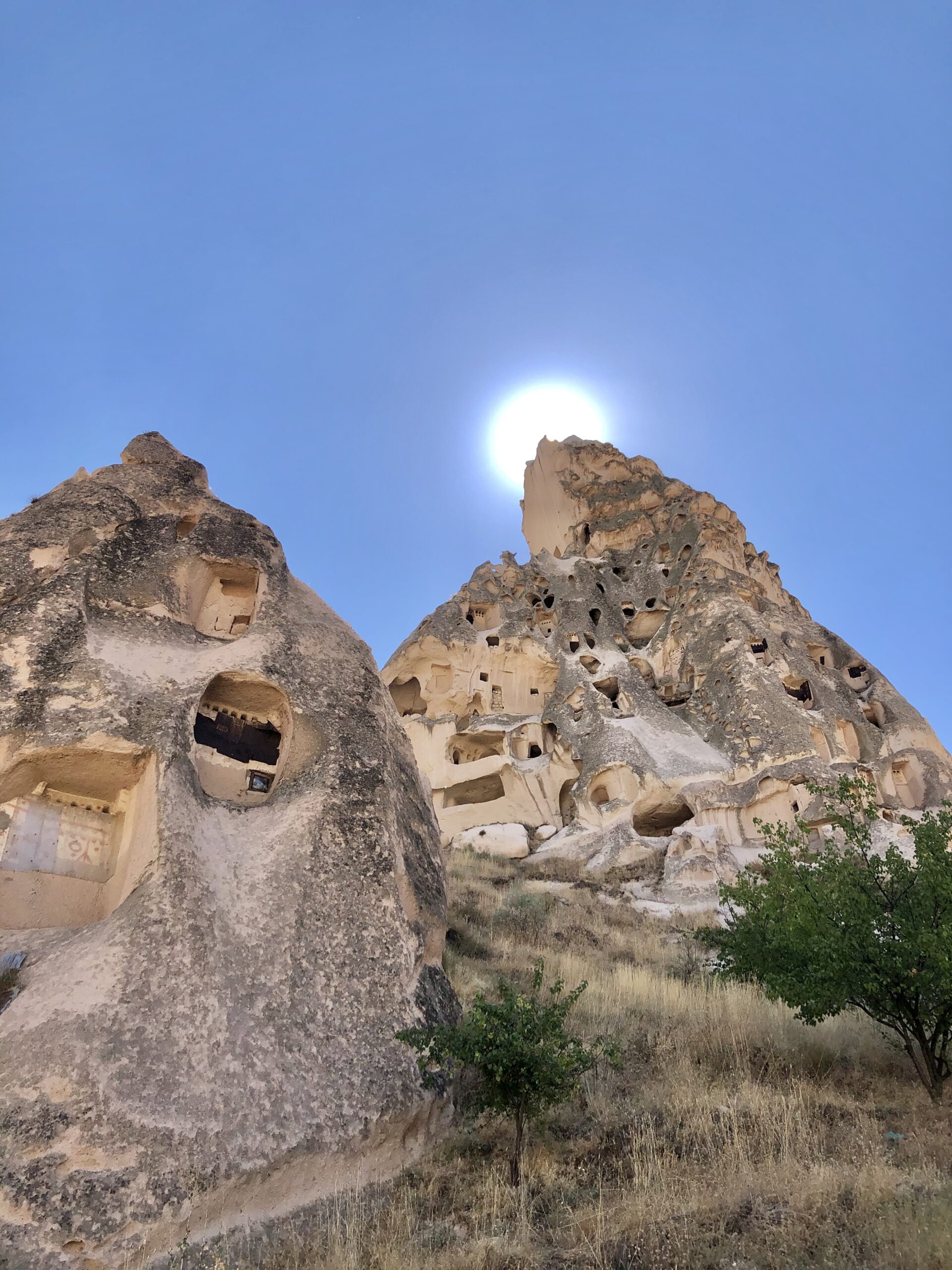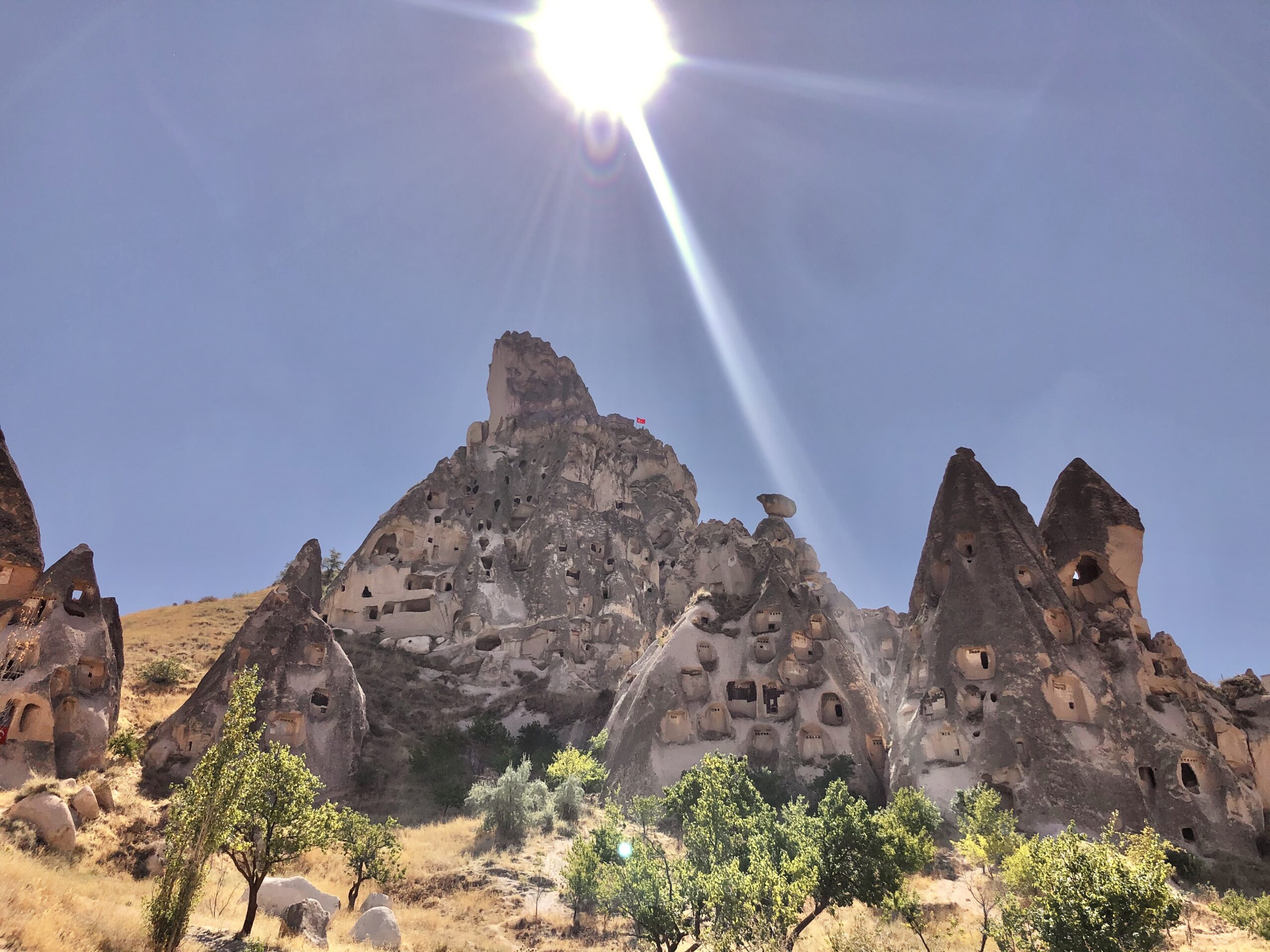 This rock-cut castle standing at the highest point in Cappadocia is one of the most impressive sites in Cappadocia. Entirely carved out of a massive fairy chimney, you can climb to the top for spectacular views.
Pumpkin Goreme restaurant and Art Gallery – high ratings took me to this place and it didn't disappoint!
Senten Restaurant – Located in the Sultan Cave Suites hotel, was one of my favourite restaurants in Cappadocia.
Organic Cave Kitchen and Wine House – another thing Cappadocia is famous for: the wine. The food and wine here were incredible, make sure you visit!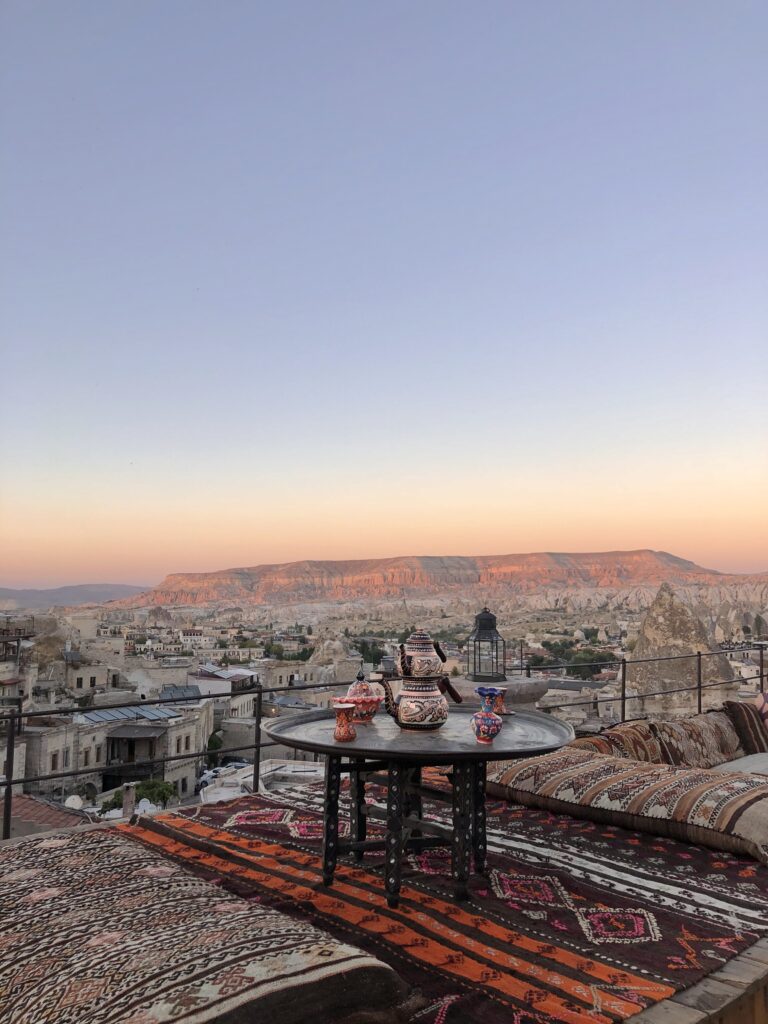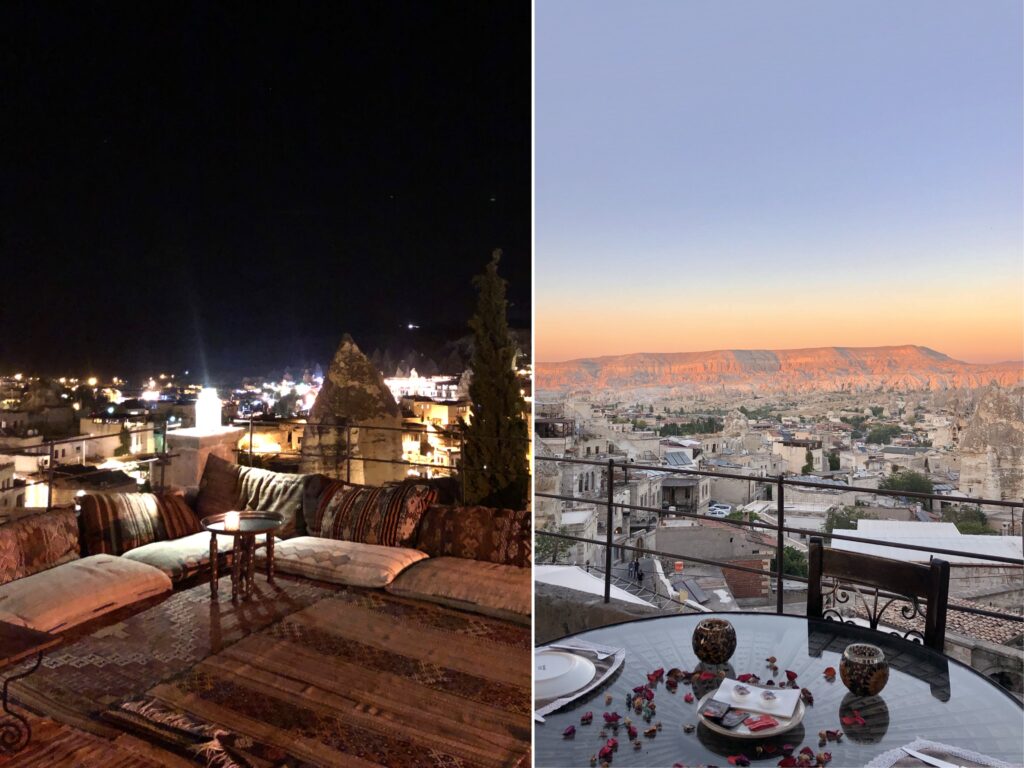 If you're doing a road trip from Marmaris to Cappadocia like we did, there are a few places you must visit en route!
Lake Tuz – one of the largest pink salt lakes in the world, absolutely beautiful location, although during September, most of the water had dried up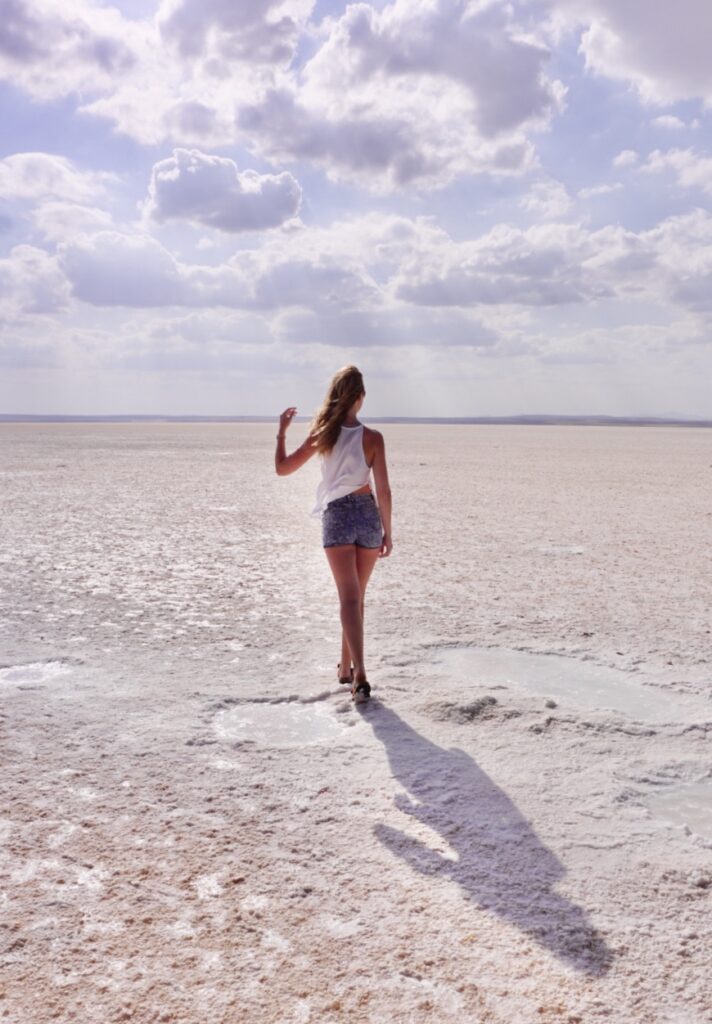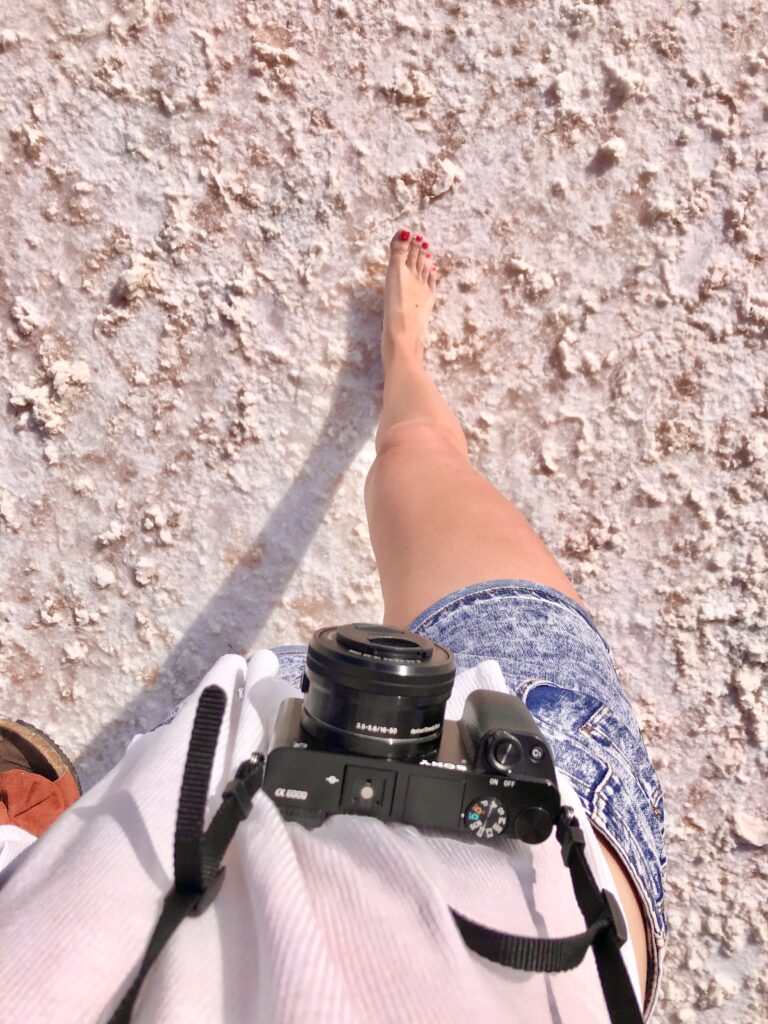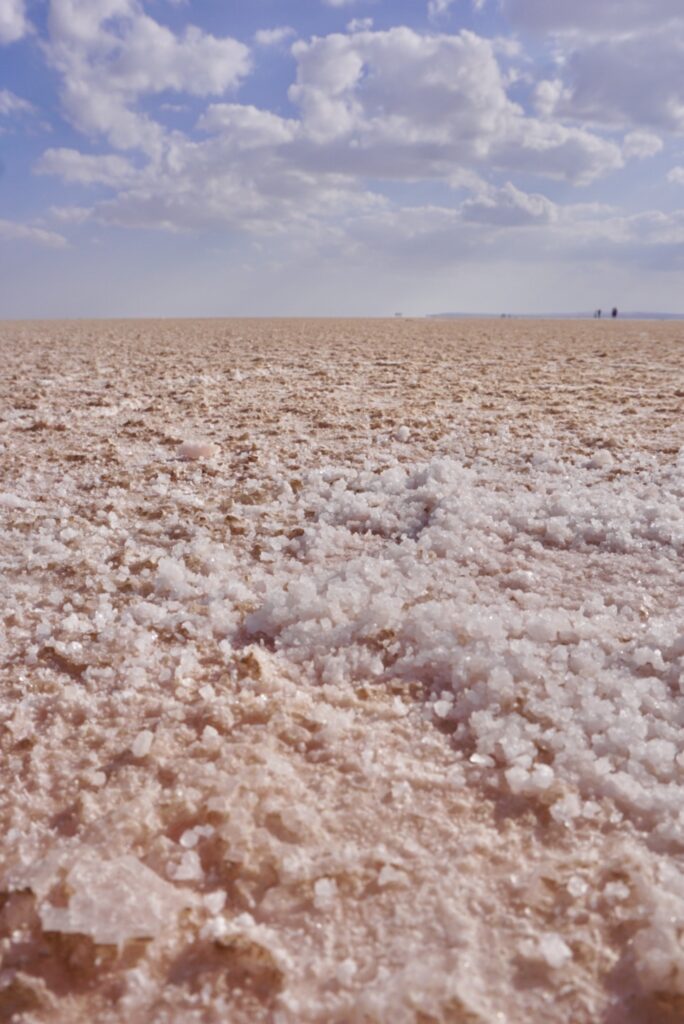 Eğirdir Lake – known as the land of roses and lakes! We stopped here for some lunch on our way.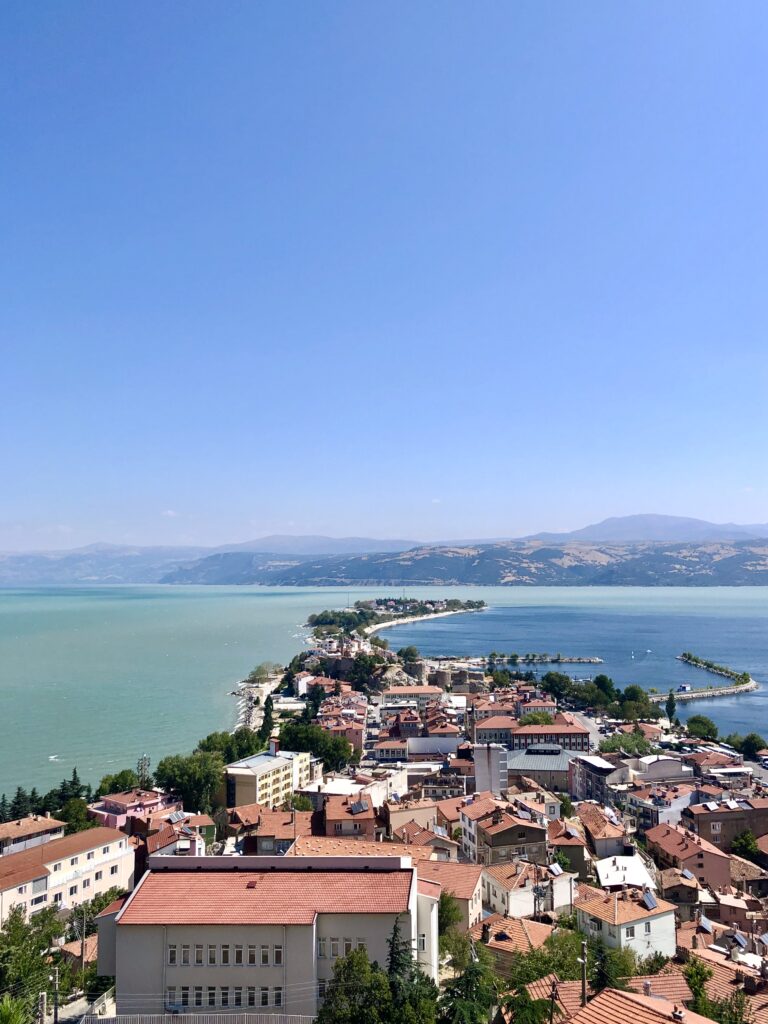 Pamukkale – could not recommend Pamukkale enough! Even as a single road trip here is worth it, being about 3 hours from Marmaris. The gorgeous city of Hierapolis is located on a 200 meter high terrace of limestone and calcium deposits amid a wonderland of gorgeous mineral water pools. As we were there at the end of the summer season, a lot of the water had dried up but there were still lots of little pools to dip into. Do try and go out of season though as this place can get very busy, very quickly. We stopped here at sunset on our way back and it was still relatively busy but quiet enough to take lots of pictures!